Reason of Integrate Chrome Browser with Yilu socks Proxy.
For privacy or anonymous business, we always need to browser websites in different IPs (like use multiple fake
chrome
browser or virtual browser) under the help of local familiar browsers, including Google
Chrome
Browser, Firefox Browser, Microsoft Edge, Safari Browser, Opera Browser and others. In some use cases, such as SEO analysis, data scraping, or brand protection, we can use different
socks proxy
under the same chrome or Firefox browser to view and check the keywords, pictures, videos in Google or Facebook to get right information under some purpose.
Chrome firefox Setting with Socks Proxy
Generally speaking, some
socks proxies
or VPN will offer us a great number of IPs. Take
YiluProxy
for example, there are 90M residential
socks5 proxies
for our use cases' demand in different local browsers.
Now editor will show you how to get a right setting in
YiluProxy
with Chrome Firefox or other browsers.
The setting process
in
Yilu socks5 Proxy
Client
can be divided into 2 parts.
Part one
is browsers directly set in
YiluProxy Client
;
Part two
is global setting for using all browsers also available for other applications on the desktop.
Part One

Browsers used in YiluProxy Client.

1.
We have to
download
the
chrome browser
:
https://www.google.com/chrome/
Firefox Browser:
https://www.mozilla.org/en-US/firefox/new/
Or other browsers please search in google to get
download link
.
2.
Drag
the
chrome
or
firefox
browser from desktop into [program] of the
YiluProxy client
as below screenshot:
drag the chrome or firefox browsers into program
3. A right setting in
YiluProxy [Settings
] Part.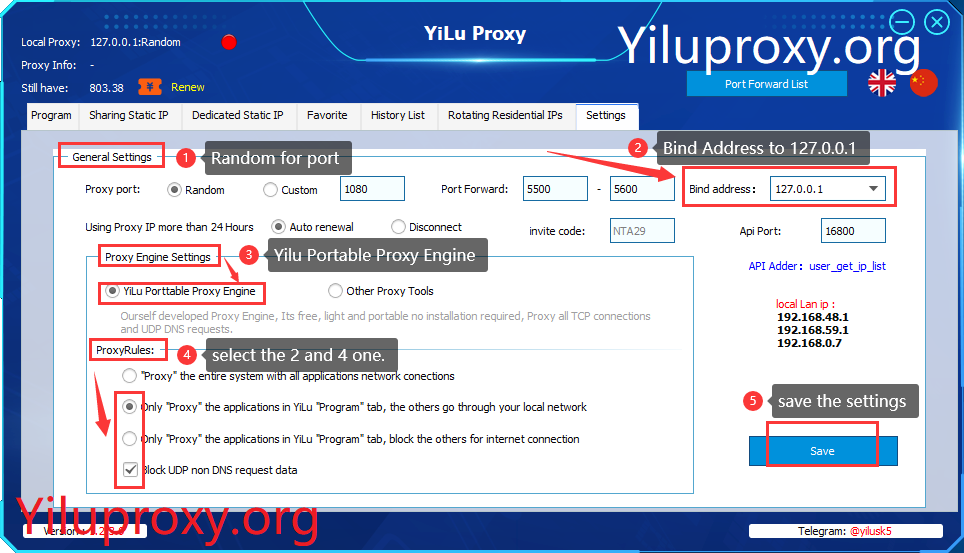 yiluproxy setting
A.
We need to
change the Bind address
to
127.0.0.1 or 0.0.0.0
(Just select it under the button.)
B. Proxy Engine Settings
: Select [Yilu Porttable Proxy Engine]
C. ProxyRules:
Click [
Only"Proxy" the applications in Yilu"program" tab, the others go through your local network
], and [
Block UDP non DNS request data
].
Here
[Only"Proxy" the applications in
Yilu"program"
tab, the others go through your local network] means only the browsers in the [
Program
] part of
YiluProxy
can use
Yiluproxy IP
, your software or application on your desktop or pc device just use your local Lan IP or other IP.
Select [Block UDP Non DNS request data] can
avoid to leak real IP
.
D. Save the setting.
4. Set one IP including
static ip
or
rotating residential ip
in the
yiluproxy
client.
Green Light
means ip is connected and it is normal to use it now.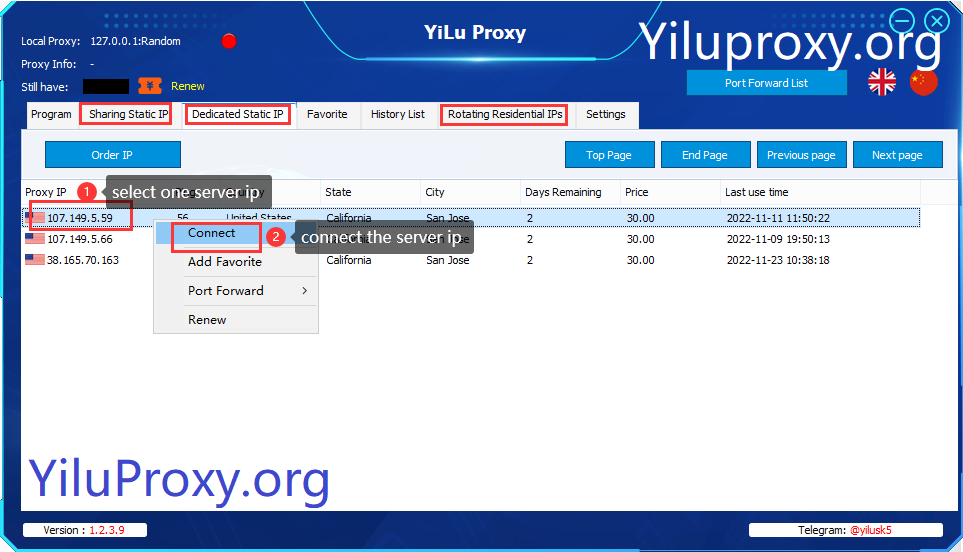 select and connect ip
green light means ip connected
5. Click
Chrome or Firefox
browser in the program to run it through
YiluProxy
, as follow:
Run chrome or firefox browser
Part Two

Global Setting to run the browsers
,
just get a [Settings] in YiluProxy.
For getting
global mode setting
, please just change the [
ProxyRules
] to the first one["proxy" the entire system with all applications network connections], which means
Yiluproxy
IP will use for
all
the
application
installed on your local computer, as below screenshot:
Proxy the entire system
All others setting
is the
same
as
above
, including [
Proxy Engine setting
], the
bind address
,
ip getting and connection
, and
run the browsers
.
Conclusion

Chrome
,
Firefox
browser setting in
yilu socks5 proxy
is normally easy, compared with the setting of
WLAN
,
antidetect browsers
or mobile device with
Yiluproxy
. just get the points as above words and screenshots.